FREE, LIVE WEBINAR
SPONSORED BY:
Texthelp, Inc.
Getting it Right: Using AT Accommodations to Assist with PARCC and Smarter Balanced Assessments
Thursday, September 4, 2014
3:00 pm - 4:00 pm
Central Daylight Time
The ability to use Assistive Technology accommodations on PARCC, Smarter Balanced, and other assessments offer many opportunities to students who qualify. In this webinar, we will discuss which accommodations are appropriate for testing and how to best prepare for the assessment. We will share some of the most commonly used accommodations and specific strategies to help ensure students are prepared to use them. In addition, specific accommodations, including text to speech, word prediction, highlighter strategies and more, will be demonstrated using Read&Write Gold. Participants will leave with a better understanding of how students can use accommodations to help increase achievement.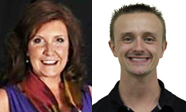 PRESENTER: Kimberly Nix and Jason Carroll, Texthelp, Inc.
Participants must register to receive confirmation and login instructions.
Participation in this free, sponsored webinar is limited to the first 100 log-ins.