From edWeb,net:
Join us on Tuesday, Aug. 26 at 5 p.m. Eastern for Using Smartphones in the Classroom with Shannon Holden, assistant principal at Republic Middle School in Missouri. Learnmore and pre-register. Join the TechTools for the Classroom community at www.edweb.net/techtools.
From Closing the Gap and texthelp:
Getting it Right: Using AT Accommodations to Assist with PARCC and Smarter Balanced Assessments
Thursday, September 4, 2014
3:00 pm - 4:00 pm
Central Daylight Time
The ability to use Assistive Technology accommodations on PARCC, Smarter Balanced, and other assessments offer many opportunities to students who qualify. In this webinar, we will discuss which accommodations are appropriate for testing and how to best prepare for the assessment. We will share some of the most commonly used accommodations and specific strategies to help ensure students are prepared to use them. In addition, specific accommodations, including text to speech, word prediction, highlighter strategies and more, will be demonstrated using Read&Write Gold. Participants will leave with a better understanding of how students can use accommodations to help increase achievement.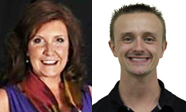 PRESENTER: Kimberly Nix and Jason Carroll, Texthelp, Inc.
Participants must register to receive confirmation and login instructions.
Participation in this free, sponsored webinar is limited to the first 100 log-ins.
Personalizing Math Through Technology and Differentiated Instruction
Facing more rigorous math standards and expectations, schools are exploring new avenues to engage students in numeracy and address diverse learning needs. Silvestre Arcos, an award-winning math instructional leader, has found that resourceful use of technology can help teachers personalize instruction so that "students at every level can make tremendous gains." In this webinar, Arcos will discuss his efforts to align math instruction with students' learning needs and offer ways that schools and districts can support and scale up personalized-learning projects.
Silvestre Arcos
, founding math teacher and instructional coach, KIPP Washington Heights Middle School, New York City
This webinar will be moderated by Ross Brenneman, assistant editor,

Education Week Teacher
Register now for this free live webinar.
Glenwood Community Schools Shares Their Experience With Google Apps, Chromebooks, and Tablets
In this webinar, you'll hear directly from Kimberly Payne, educational technology coordinator at Glenwood Community School District. With an emphasis on digital literacy, the district decided to "Go Google" with a "1-to-Web" Initiative for Chromebooks in grades 3-12 and tablets for grades K-2. Payne will share details about her district's experience serving over 2,100 students in five different schools with Google for Education and give insights into how these tools are being used in the classroom.
Get an overview of the Google for Education solution,

Discover how this solution can be used to improve student learning, collaboration, and innovation,

Hear firsthand experience from a district using Google Apps, Chromebooks, and tablets, and

Learn how the district provided professional development to help ensure the devices & tools would enhance classroom learning.
Kimberly Payne
, Educational Technology Coordinator, Glenwood Community School District, Iowa
This webinar will be moderated by Brent Sarver, Google for Education Team, Google
Register now for this free live webinar.